(please excuse the mess, I'm still remodeling)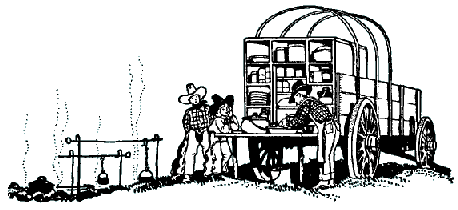 ....grab ya a cup of coffee and a piece of that chicken
over there and join us around the campfire, and let's
talk horses. If ya came to look at some pictures of horses
and friends, just scroll on down this page and hit the
proper "trail" marker. What's that? What is a Racking horse
you ask? Nope, a Racking Horse is not just the answer to
a poor man's Tennessee Walker, and yes their is a
difference between a rack and a run walk. Both gaits
are a single foot or a single beat gait and both should
be smooth and fluid. The biggest difference I can see
is that in the run walk they are judged better for the
head nod and in the racking horse they are knocked down
(or should be according to rule book) for head nodding
and exaggerated hock movement. In some of the classes
in run walkers you will hear them call for a canter,
in most racking classes you will never hear them call
for a canter. I've been ridin' both for over 40 years
and have found that MOST rackin' horses are still single
footin' while the run walker is cantering wide open. A
lot of people like to say that a run walkin' horse is
one that uses artificial means to enhance the gait and
that the racking horse does not. To me they are sayin'
that there ain't no difference really between the two
except the way they are geared up, shod and how they
are ridden, can't say I agree with that entirely. All
my horses are flat shod and kept just as natural as
possible and I like them that way. Now everybody has
their preferences, but I just gotta say that mine is
a good speed rackin' horse that will hit over 20 mph
and still not get pacey. Now don't get your bowels in
an uproar, I know that there are exceptions to all this
and I would be glad to hear your opinion. All of us would,
so just jump right in and e-mail us and I promise it
will be published as long as the language is clean. In
the meantime folks, saddle up your favorite horse (maybe
I should say mouse?) and take a ride thru the Campgrounds
of Trailhoss. Just click on any of the trail signs below
that you find interesting and sure hope you enjoy your ride!















View My Guestbook
Sign My Guestbook